In January 2014, Daniel and Mariat were invited by Pastor Getaneh for a three week ministry trip in Ethiopia. The Lord gave them this opportunity to teach and train hundreds of believers in various parts of the country including areas where the population is 99% Islamic. They were able to minister and counsel many believers who have desire to learn and be equipped to reach out to lost souls around them. Almost every one of them including many pastors and Christian leaders were appreciative of IMI ministry and for Daniel and Mariat to be there to help them understand the Islamic faith and to reach out effectively to Muslims with the love and compassion of our Lord Jesus Christ. It was encouraging to hear comments made by some pastors and evangelists. For example one pastor said, "After sitting under Daniel's teaching, I feel I have been born again"; another said, "After learning from Daniel and Mariat in the conference, I have been enlightened and it has opened my mind". Another evangelist said, "I have been very discouraged during my ministry, to the point of depression but the Lord has used this teaching to restore me fully and has put fire in my bones." In one of the Sunday services, Daniel preached a powerful Word of God and at eight people, including one Muslim man accepted Jesus Christ as their Lord and Savior. Praise and glory be to God!!!
In Australia, Daniel and Mariat had the opportunity to teach and train at Gangallah Training Centre, Tweed Heads in February.
From 15 March to 16 April, IMI hosted Dr. Batarseh from Columbus Ohio, for a ministry trip in Australia. Various meetings were organized in Melbourne, Sydney, Canberra, Brisbane and Bundaberg, where hundreds of believers had been blessed and encouraged, and many were healed and others were restored back to Jesus. Hundreds of people accepted Jesus as their Lord and Savior for the first time in their life. IMI extends gratitude to Samson & Febe Daniel in Melbourne, Augustine Wilson and team, Jacob Masih and Aziz & Maria in Sydney and Jackson & Victoria Gill from Bundaberg, who made special efforts to organize meetings and to accommodate. In Canberra, a Christian Faith and Freedom Conference was organized by Karen Bos, who graciously gave opportunity for Daniel and Dr. Batarseh to be among the speakers. In Brisbane, thanks to Pastor Newington for opening up Cornerstone Church for Dr. Batarseh to share his heart and ministry. Overall Dr. Batarseh's ministry was fruitful and well received.
One of the participants in the leaders/pastors conference came from one of Ethiopia's neighboring countries, where nearly 100% of the population is Islamic. She was born and raised as a Muslim. While growing up in her Muslim family, she was convinced that Islam is the only religion and her great desire was to get married to a Muslim man who would have zeal to spread Islam all over the world. There was a hunger in her heart to know and serve the true God. She is in her mid-thirties and has five children. Some time ago she had the opportunity to hear the Gospel message and she accepted Jesus Christ as her Lord and Savior. Upon hearing of her faith in Jesus Christ, her husband got very upset and tried to bring her back to Islam. As she stood firm in her faith in Christ, he started to abuse and beat her. Finally he divorced her and kicked her out of the house with her children. The news spread quickly. She used to work in a hotel as a cook and as the hotel management came to know that she has become Christian, she lost her job. She went to other places to find work, but wherever she went, once people found out that she is a Christian (an infidel), no one wanted to employ her. At present she does menial jobs to earn some money to feed her children. Her own family is rich and willing to help her provided she deny her Christian faith and come back to Islam. Thank God for her firm stand upon the Truth of Jesus Christ and for her courage and boldness to share her faith in Christ with others around her in spite of the persecution. Please remember her in your prayers as she is going through a lot of difficulties and financial hardships.
A young man, 26 years old, was sitting in training sessions for Christian Leaders in Nazareth, Ethiopia and he asked very serious questions about Islam. We were curious to know more about him and how did he get such incite? Later we found out that he accepted the Lord Jesus Christ three years ago. He was born and brought up in one of the pagan tribes of 150,000 people. He was a shepherd but became one of the leaders of his tribe. Muslims around that area realized that this young man had leadership qualities. Gradually, they influenced him and he converted to Islam. He was trained to lead his people in Islamic faith but, while he was a practicing Muslim, he started seeing a sign of the Cross as he bowed down to perform his ritual prayers. Initially, he ignored it but as this sign kept appearing, he became upset and prayed to Allah to remove this evil sign from his sight. Allah could not help him but God Almighty had great plans for his life. The sign of the Cross did not disappear but his Islamic faith started to fade. While he was a student, he heard the Gospel and accepted Jesus as his Lord and Savior. He was the first from his tribe to become Christian. Now he is actively involved in preaching the Gospel and in three years he has led nearly 500 people of his tribe to the Lord Jesus Christ. He is very passionate to reach out to Muslims in his area and is very eager to learn more about the Word of God and about reaching out to lost souls around him. He deserves our prayers and support.
---
PRAYER POINTS
Pray for IMI's ministry in Australia and overseas – pray for God's wisdom, anointing, protection and provision for publications and DVD projects; pray for the release of regular funds for day to day ministry expenses;
Pray that God will raise believers who will realize the dangers our nation is facing by casting off Christian morals and by allowing falsehood to flourish.
Pray for the persecuted Christians in Syria, Egypt, Pakistan and other parts of the world, so that the believers will stand firm on the Truth;
Pray for Mariat's brother Victor in Pakistan, who is seriously ill and under treatment in hospital. Daniel's brother Samuel, also has big health issues and needs prayer for complete healing.
Pray for Daniel's sister's family (Aftab Family) in Sri Lanka. The family has been waiting for asylum in Sri Lanka for more than a year. Pray that the process will be accelerated. They are facing difficulties physically and emotionally, pray for their complete healing.
Pray for the new believers, who accepted Jesus Christ as their personal Lord and Savior during Ethiopia trip and Dr. Batarseh's meetings in March/April that they will grow stronger in the Lord, walk with Him faithfully and that they will join a church;
"If My people who are called by My name will humble themselves, and pray and seek My face, and turn from their wicked ways, then I will hear from heaven, and will forgive their sin and heal their land." (2 Chronicles 7:14)
---
BOOKS FOR SALE:
Share the Gospel with Muslims
by Daniel Scot & Michael Abdulhuq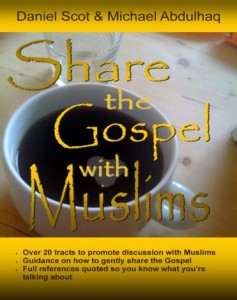 Price: $20 + postage
---
Windows into the Qur'an
by Daniel Scot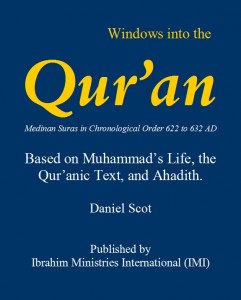 Price: $20 + postage
---
A 5 Disc DVD Series introducing Islam
Local experts in the field of Islamics — Daniel & Mariat Scot, John Arnold, and Gerhard Nehls — focus on topics such as: Are God and Allah the same? Jesus in Islam; Islamic culture; Answering Muslim objections; Women in Islam; Jihad & Abrogation – and more… Special Price —
$60 plus postage
---
Donations:
Westpac Bank : BSB 034 003; Acc. 214587 ABN: 77025070880
Your regular support for IMI to fulfil the Great Commission of making disciples of Jesus Christ among all Nations, is greatly appreciated!!